ENCHANTED WOWO WOODS WORKSHOP
THE ENCHANTED WOODS OF WOWO
Join Rainbow, one of the many fairies that live in the Enchanted woods at Wowo, on a magical adventure searching for her lost magic wand!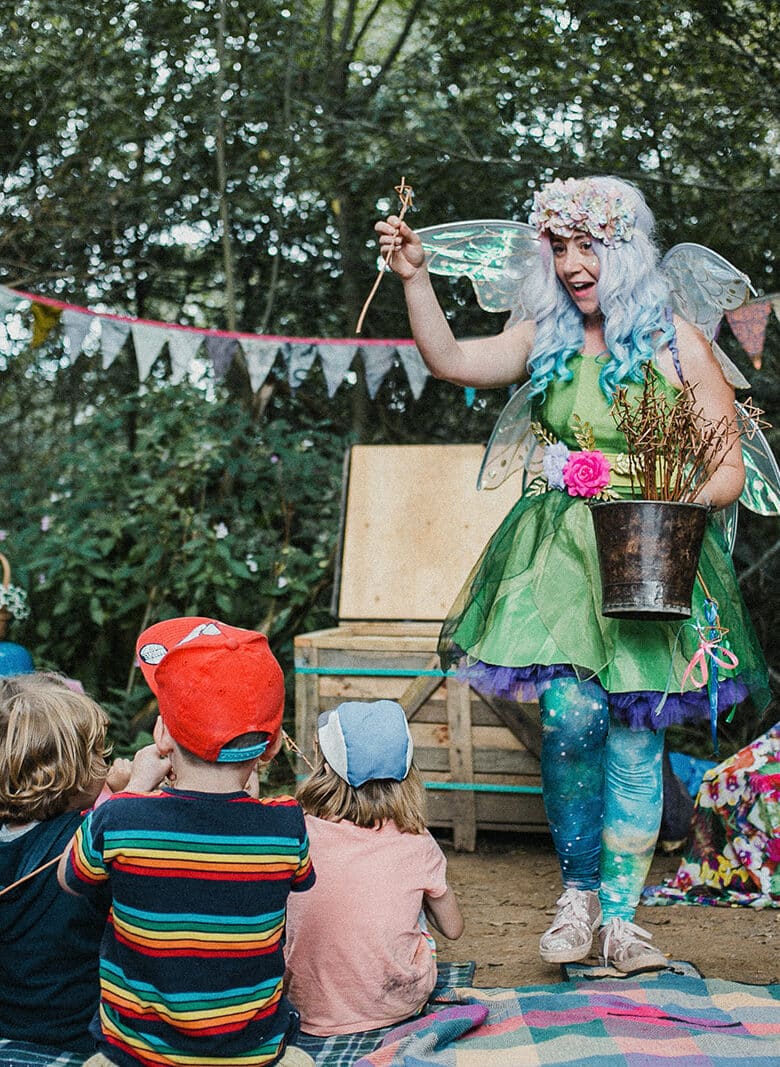 Explore the magical woodland paths and see how many fairy doors you can find, discover the secret fairy village and stop to weave a wish into the wishing tree. Help Rainbow find her wand (she really is very forgetful) and decorate your very own willow wand with magically hand spun wool.
Which colour will you choose? Unicorn hair, Dragon Skin, Phoenix feathers, or maybe Mermaid scales? Then help Rainbow make a magic potion to help protect the fairy village from those naughty Trolls.
Learn all about the enchanted woods, the creatures that live here, the plants and trees that grow and how you can help the fairies protect these ancient woodlands on this 90-minute magical adventure!
Important information for fairies and trolls joining this workshop…
Length – 1.5 hours
Ages – Suitable for all ages, under 6 yrs must be accompanied by an adult Fairy or Troll.
Clothing – This workshop is outdoors and will go ahead come rain or shine, please dress appropriately for the weather. The woodland path can sometimes be muddy, so welly boots are advised. Please also bring a water bottle with you. If you require any special access needs, please let us know at the time of booking your workshop.
A magical willow wand with hand spun yarn, feathers and beads to decorate.
Your very own magic potion to protect the fairies in your garden from Trolls.
An Enchanted Woodland activity booklet, with stories, spells and crafts to take home and continue the magic!
PRIVATE EVENTS, PARTIES & WORKSHOPS
Rainbow the Fairy (also know as Rosie) has been working as a children entertainer and drama
teacher for almost 10 years. She is passionate about the benefits of creative play for children and
has extensive experience creating magical experiences for fairies and trolls of all ages!
If you are interested in a private event or party, please do get in contact with Rainbow via her email. [email protected]

£13.50 per person
*Accompanying adult does not pay*
Cancellation policy
30 days notice or longer – 90% refunded (minus admin charge) / 15 – 29 days notice – 50% refunded / 14 days or less notice – No refund
For all dates please scroll through the calendar page to see when each individual course is happening. You will also be given the supplements available for those dates when you book camping through the main booking page.
If you would like to book any of these workshops for a large group on already set dates or privately on special dates, for school or home education groups or team building exercises, we can accommodate you. Tailor-made full/half days with a selection of workshops of your choice. Price discounts for larger groups of 30+ participants. Please email: [email protected]
There is so much happening at Wowo throughout the year. Whether it's workshops, music, activities, campfires or anything else you want from your camping trip, make sure you stay in the know by subscribing to our newsletter. We promise no spam, just some casual updates every month or so!
If you want to book onto a workshop but still have some questions, we will be happy to help clear things up for you! You will need to make the booking on the booking section on the relevant workshop page, but if you have anything to ask about any workshops then please drop us a line below.