REALLY WILD BUSHCRAFT WORKSHOP
ABOUT REALLY WILD BUSHCRAFT AT WOWO
Great for kids and families and great for school groups, leaders and staff teams too! Really Wild Bushcraft was founded by Steven Shove in January 2020 to deliver exciting and enlightening bushcraft adventures and outdoor learning experiences for all. Since then, the Really Wild team has run activities and workshops for several thousand of our amazing campers and visitors.
This includes all the children and families who have enjoyed our publicly available workshops, the pupils of numerous schools who have taken advantage of Really Wild's specialist personal-development and curriculum-related educational camps, a multitude of private family and other groups, and a wide range of leadership and staff teams too. The team has created wide and varied range of bushcraft and other workshops that you can book directly below, however, if your group wants something that is not described or available during your stay, we will be delighted to run a special event just for you.
All team members are trained to Really Wild's high standards for instructors, and each holds an enhanced DBS check and certificates in first aid and food hygiene too.
Contact Information
Telephone: +44(0)17771520515 Email: [email protected]
Social Media for Schools: Facebook / LinkedIn / Website
Social Media for Business & Teams: Facebook / LinkedIn / Website

WIDE GAMES & THE GREAT ESCAPE
A host of new and exciting games and challenges designed to entertain and challenge the teamwork and problem-solving skills of adventurers young and old.
Example activities: Get me out of here, human knots, wild wanderer, spot the difference, crazy crocodiles, crafty fox, tree anchor, shark infested waters, caterpillar race, top me up but don't get wet, longest shadow, finish together, reach the ball, memory maze. Games may be adjusted for age groups and weather conditions.
Below 5yrs must be accompanied by a paying adult. 2hrs. £12.

Ideal for children and their parents too. Enjoy the best elements of a school sports day with activities to test the speed and dexterity of the whole family.
Example activities: Sack race, egg and spoon race, hula hoops, skipping races, long jump, triple jump, relay races, funny walks, throw the wellie, catch, Frisbee, limbo and more.
Below 5yrs must be accompanied by a paying adult. 2hrs. £12.

BUSHCRAFT STONE AGE ADVENTURE
Head back to 100,000 years BC and step into the forests where our ancestors first learned to spot and use the resources around them. Go back to an age when fire was first mastered, where foods and everything else that was needed to survive had to be found, made, or foraged for, and learn some skills that you can be proud of.
Packed full of bush craft lessons and games, with links back to the magic and marvel of the stone age, this workshop is wonderful for all the family!
Below 5yrs must be accompanied by a paying adult. 3hrs. £18.

KIDS GO WILD! FIRE, FORAGE & GAMES
A fantastic couple of hours with three fun elements suitable for all the family. In this session participants will be introduced to the basics of fire ignition using a fire steel, taking any skills that may have been used in Forest School to the next level or introducing it in an age-appropriate manner for the very first time.
Next, will be an exciting and informative forage for such things as wild foods, medicines, and other useful Bushcraft items, followed by a selection of woodland and/or field-based games.
Below 5yrs must be accompanied by a paying adult. 2hrs. £12.

WILD FOODS, FORAGING & COOKING
A wonderful opportunity to explore the hedgerows and woods and to incorporate what you find into a simple meal cooked over the open fire. Learn about the valuable nutrients we need to thrive and about the importance of keeping our eyes open for every opportunity.
A great course for all and for parents to enjoy with their children!
Below 5yrs must be accompanied by a paying adult. 2hrs. £12.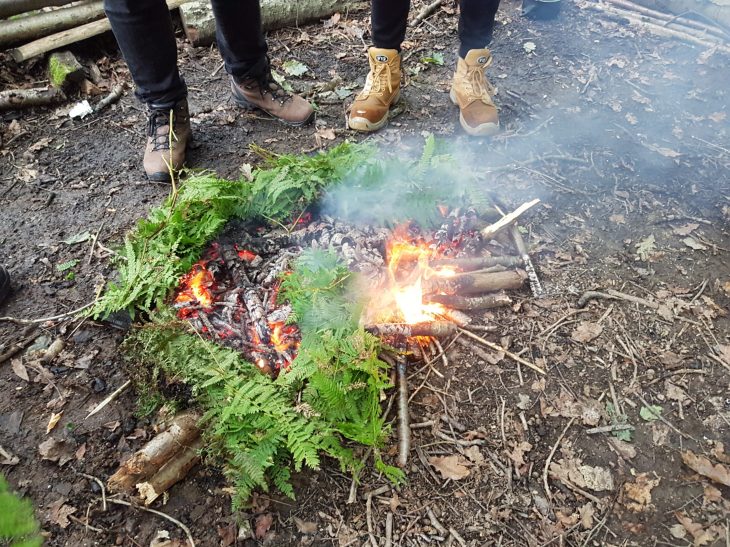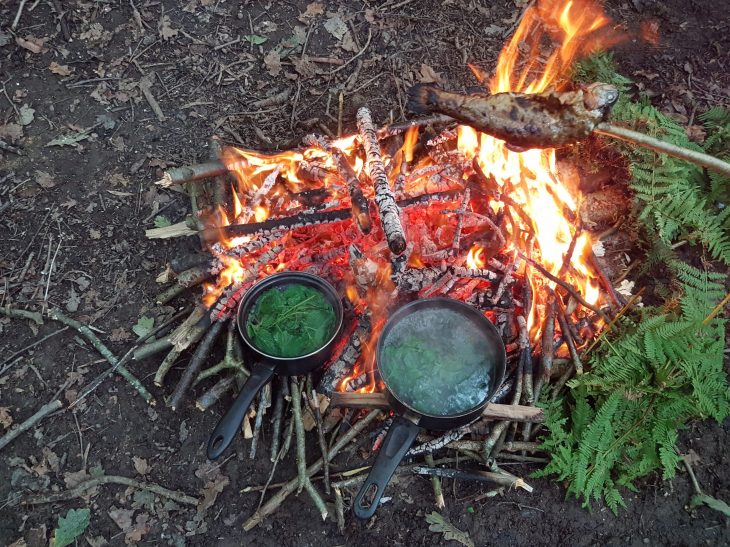 A fun-filled session and a great opportunity to learn how to make shelters that will keep you safe and comfortable in the woods. Participants will experiment with natural and/or sometimes man-made materials to make the best camps they can – for themselves, their friends or even for the animals and fairies of the woods depending on your age.
Learn the answers to key questions such as: Do I even need a shelter? Where do I put it? What can I make it from? What design should I use? What if I'm just too tired? What if I have no string? And how should I do so safely? Whether you are a child or a grown up, this session is one that will leave you with skills you can use forever.
Below 5yrs must be accompanied by a paying adult. 2hrs. £12.

BUSHCRAFT & SURVIVAL ADVENTURE
A fantastic introduction to bushcraft and survival skills and priorities! Learn to build trust and communicate like the best expedition teams. Learn how not to get lost and then learn about such things as fire, shelter, water, wild foods, tracking and stalking for example.
Packed with games and activities throughout, this mini adventure is a great introduction to bushcraft and survival skills and a brilliant opportunity for families and friends to do something together. Children of all ages from 5 to 95 love it! An experience you are sure to remember for a very long time!
Below 5yrs must be accompanied by a paying adult. 3hrs. £18.

This workshop is an introduction to knife craft, a really enjoyable way to spend some time in the woods whilst learning a valuable new skill. Content includes knife safety, multiple cutting techniques and methods, what makes a good knife, and important things about the law.
Participants will make one or more item(s) that they can take away with them feeling confident in handling and using a knife. Ideal for adults and children ages 11+ with good dexterity and concentration levels.
£30. Max 10 people.

HUNTERS & GATHERERS EXPERIENCE
An exciting couple of hours that teaches how people used to live just a few thousand years ago, and how some still live today – in harmony with nature, as communities and living off the land. In this session, participants will learn to respect and protect nature and each other but will also learn how to native peoples who live in the wild track, stalk and hunt for food.
They will also learn how they forage for all their resources such as foods, medicines and materials from which to make their clothes, shelters and all the other items that allow them to thrive in the wild. Packed full of adventure, games and team-based challenges participants will get to use such primitive weapons such as the spear, spear throwers, throwing sticks and perhaps even the bolas.
Below 5yrs must be accompanied by a paying adult. 2hrs. £12.

In this session, participants will have the opportunity to try a range of bushcraft skills such as fire craft, camp craft, foraging stalking and tracking dependent upon the interests and makeup of the group in attendance. Activities are suitable for all the family. Certain to leave you wishing for more!
Below 5yrs must be accompanied by a paying adult. 2hrs. £12.

ATTENDING A BUSHCRAFT WORKSHOP
Please do not send any knives with the children on the workshops, if carving is offered then knives will be provided. Dogs can not attend workshops. Please be sure to send your child with a drink of water and warm clothes to the workshop, even if it is a hot day, as it is cooler in the woods.

Prices: 2hr session – £12 / 3hr session – £18 / Knife Craft 2hrs £30.
For all dates go to the calendar page to see when each individual course is happening. You will also be given the supplements available for those dates when you book camping through the main booking page.
Refund Policy: 30 days notice or longer – 90% refunded. 15 – 29 days notice – 50% refunded. 14 days or less notice – No refund.
If you would like to book any of these workshops for a large group on already set dates or privately on special dates, for school or home education groups or team building exercises, we can accommodate you. Tailor made full/ half days with a selection of workshops of your choice and price discounts available. Please email: [email protected].
There is so much happening at Wowo throughout the year. Whether it's workshops, music, activities, campfires or anything else you want from your camping trip, make sure you stay in the know by subscribing to our newsletter. We promise no spam, just some casual updates every month or so!
If you want to book onto a workshop but still have some questions, we will be happy to help clear things up for you! You will need to make the booking on the booking section on the relevant workshop page, but if you have anything to ask about any workshops then please drop us a line below.