THE HISTORY OF WAPSBOURNE MANOR
It is thought that there has been a building of some description on the site of Wapsbourne Farm since Anglo Saxon times. It was known at Domesday time as Werpesburn, which in Sussex vernacular later became Wapses Boorn. The present L-shaped building is the remaining part of an earlier larger E-shaped house.
During the period known as the 'second great rebuilding' in the 17th century it was reduced in size and the timber framing on the South and West sides the weather fronts were covered with fine brickwork, with the magnificent chimney stacks erected. A notable feature of the chimney stacks is that they were constructed to present a corner angle to the prevailing wind.
Another striking characteristic of the renovation is the moulded dripstone course inserted above each level of windows continuous for the whole length of the west front and the south gable end. The date 1601 is carved on a pendentive on the north end gable; this gable also has fine moulded bargeboards.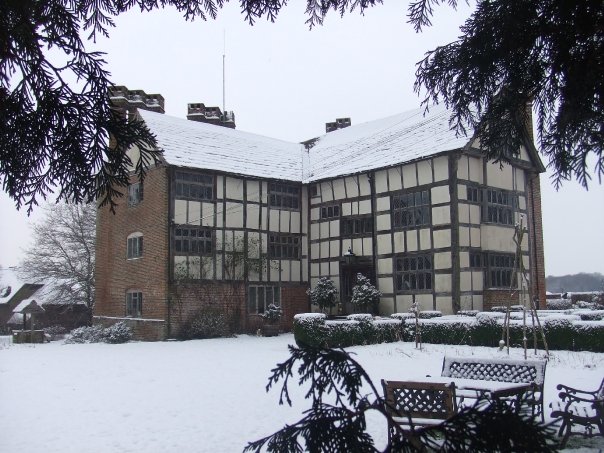 The original timber framing with its whitewashed wattle and daub panels was retained on the north and east fronts. It is this, together with the mellowed old brickwork and the moss covered Horsham stone roof, which despite its size, gives to Wapsbourne an especially intimate and warm atmosphere.
It is thought that the open hall and the great chamber were in those parts of the building which were demolished. Plenty of evidence of the original timber construction remains visible with massive oak beams throughout.
Original windows were replaced with others in Elizabethan style and some in Jacobean style. Traces can be seen where some small windows have been bricked up. The last might have been done during the period of the 'window tax'.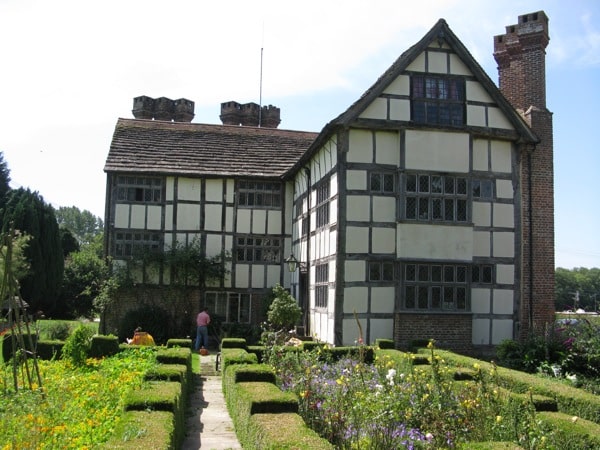 The original heavy oak iron studded door in the North L shape was bricked in. A smaller door in the east facing L shape was replaced in the 1950's when a hallway was constructed from what would have been the kitchen scullery. Pictures in the book 'Smaller Manor Houses of Sussex' by Viscountess Wolseley show the door in the east facing L shape before the new hallway was built.
On entering this east facing door the old oak staircase rose straight for the first flight and then ascended in a spiral to a passage room which served to link two large chambers in the lower roof spaces. In 1950's these stairs were replaced with straight flights in light golden oak.
The attic on the fourth landing has huge oak beams, from this room a small flight of stairs leads into the roof attic were the original roof construction at 'collar tie' level can be examined. From the roof attic you can gain access to the roof to see the Horsham stone and chimney stacks from a bird's eye view.