May 2024 bookings will open in
WORKSHOPS AVAILABLE AT WOWO CAMPSITE
We have a variety of fun and interactive workshops for all ages and families at Wowo! Whether you fancy your chances in the wild learning some bushcraft skills, learning some new circus tricks, making potions or foraging or shooting some arrows – we will have something for you!
Have a browse of the workshops below and get some booked in for your camping holiday (advance booking is highly recommended as they often sell out). If you are interested in a group booking for any of the workshops get in touch at [email protected].
We can cater for corporate events (alongside the onsite wild spa and glamping/camping), birthday parties, home-ed groups and more. Sorry we do not cater for stag or hen parties

BOOKING WORKSHOPS AT WOWO
There is different information you need to know depending on the workshop you are booking. This is made known to you during the process. Below is some more general information for you, and if you have any trouble booking please email: [email protected].
Great for kids and families and great for school groups, leaders and staff teams too! Really Wild bushcraft was founded by Steven Shove in January 2020 to deliver exciting and enlightening bushcraft adventures and outdoor learning experiences for all. Since then, the Really Wild team has run activities and workshops for several thousand of our
amazing campers and visitors.
This includes all the children and families who have enjoyed our publicly available workshops, the pupils of numerous schools who have taken advantage of Really Wild's specialist personal-development and curriculum-related educational camps, a multitude of private family and other groups, and a wide range of leadership and staff teams too.
Join Rainbow one of the many fairies that live in the Enchanted woods at Wowo, on a magical adventure searching for her lost magic wand! Explore the magical woodland paths and see how many fairy doors you can find, discover the secret fairy village and stop to weave a wish into the wishing tree. Help Rainbow find her wand (she really is very forgetful) and decorate your very own willow wand with magically hand spun wool.
Which colour will you choose? Unicorn hair, Dragon Skin, Phoenix feathers, or maybe Mermaid scales? Then help Rainbow make a magic potion to help protect the fairy village from those naughty Trolls.
The Art Fun for All workshop is a series of games and challenges to get Families, groups, and individuals painting, scribbling and drawing together, and individually.
Somewhere between a TV game show and workshop, BB gets you creating with various paint, chalk and oil pastels, crayons and charcoals: These 2 hours can really add something new to the family and group dynamics – No experience needed – just play, create and have fun.
Golden lotus archery offer drop in archery & fencing sessions as well as bow making workshops. We aim to share our love of the bow as much as we can, at any event or occasion, and to create the most pleasurable experience of archery.
Our focus is upon natural, intuitive teaching, & tapping into the internal knowledge and skill that lies within all of us.
JIMMY THE JUGGLING JESTER
Jimmy is an experienced instructor and can guide you through circus skills from all over the world, including diabolo, flower stick, plate-spinning, poi, hula hoop, and juggling, as well as balance skills like stilt-walking, pedal wheels, and perhaps even unicycle!
These skills are a great way of improving your balance, coordination and accuracy, and our workshops are an excellent opportunity to make quick progress with them in a fun and friendly environment. With two sessions, one for the under sevens and one for children and adults of all experiences, our workshops offer a suitable challenge for everyone as well as an opportunity to see Jimmy perform some tricks.
Join Wowo's resident Medical Herbalist, Alice Rose Betony, to learn how to brew your own simple and safe potions. Learn about a selection of common wild weeds, cottage garden herbs and kitchen spices and choose what magic powers you want your potion to have. You can choose from herbs that can ease digestive or respiratory complaints, boost immunity or aid anxiety.
Alice will be on hand to offer personalised advice for your family's health needs and you can feel empowered learning about the ingredients and tools to make your own potions. This workshop is suitable for all the family (under 8yrs accompanied by an adult), it is a sensory experience and educational too.
Why not book a children's ukulele workshop with our very own in-house musician, Al Start! Al has taught ukulele in primary schools for 10 years and will get you started with just one finger! Learn how to hold, strum and play a few chords on your ukulele, then sing and play along to some easy, well-known songs, family favourites and even a few of Al's funny originals!
No experience necessary – bring your own ukulele or borrow one of ours. (Suitable for grown-ups too) Under 8 year olds accompanied by an adult.
Come and join us for a camping experience with your under 5 year olds. We have tailored a week of activities for you and your little ones to participate in a relaxed, outdoor environment. Enjoy forest school inspired activities and family workshops and still have time to visit the Bluebell railway for a train ride (or other local attractions).
We will also be hosting a special Nature's first aid workshop for the whole family to enjoy a walk in our lovely countryside and learn what nature provides for our first aid and health needs. Come and see what this year will bring!
Nurturing Earthlings is a small family run venture based just down the road from Wowo, specialising in forest school, nature connection, natural crafts and team building games. Katie leads the team and is passionate about connection – to ourselves, to each other and to nature.
The sessions all include welcome circles and a chance to share gratitude and may include an invitation to co-create natural art, weaving projects (like dreamcatchers), scavenger hunts, team games, tree songs from the Children's Forest and stories from nature. The team are all highly experienced in working with children of varying ages and have a real passion for what they do.
Their brand new Music School Membership Program has just launched offering schools exclusive access to outstanding original songs and music teaching materials all based on primary topics at an affordable price. 
A Centre of Educational Excellence with Really Wild Academy and Partners Wowo have teamed up with really Wild Academy to offer schools and colleges a wonderful range of nature-based experiences, personal development camps, team and leadership.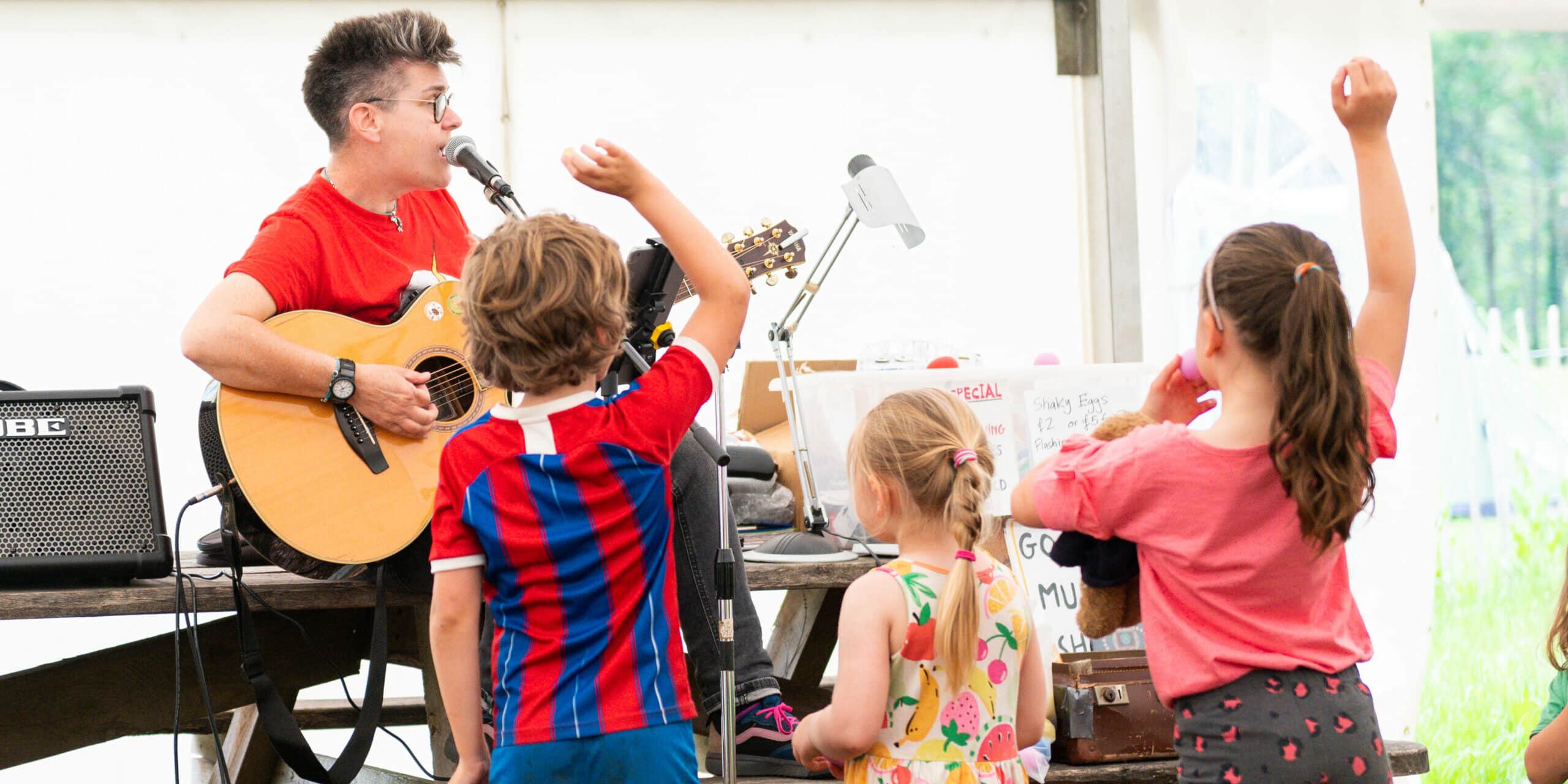 WHAT'S HAPPENING AT WOWO?

Please take note of the following information to get the best from your time with us.
Photographs or film may be taken during the workshops for publicity purposes here at Wowo, if you do not wish your child/children or yourselves to be photographed or filmed please let the workshop leader know before the workshop begins.
Meet in BIGWOOD for the Bushcraft workshops (reception can provide directions).
Meet in the Marquee in Lower Moat field for Circus skills, Art fun for all & Potion class.
Meet by the living willow structure opposite the main campsite reception for the Enchanted woods fairy workshop.
For all sessions please bring a healthy snack and drink as well as warm appropriate clothes, even if it is sunny when we begin!
If you need to escort your child back to your camp after their session, please feel free to arrive in BIG WOOD shortly before our ending time to collect them.
Please bring a pack lunch, ideally to share (advised vegetarian) as it's much nicer all eating together. You may wish to bring a notepad and pen, camera (pls ask other participants and the instructor if they mind if you capture them first), suitable footwear, suncream/hat, warm clothes etc and any tools in particular it says to bring for the workshop. You may also wish to bring something soft/warm to sit on as we will be outside on wooden benches.
Meet by the barn at campsite reception 5 mins before start time.
There is so much happening at Wowo throughout the year. Whether it's workshops, music, activities, campfires or anything else you want from your camping trip, make sure you stay in the know by subscribing to our newsletter. We promise no spam, just some casual updates every month or so!
You will no doubt have a handful of questions before you come camping. There is a ton of information around this site that should provide you with the answers you need. However if there is anything else, please check out our FAQs that should cover everything that you can think of. If there is still something missing, you can drop us a line.