WORKSHOPS AVAILABLE AT WOWO CAMPSITE
We have a variety of fun and interactive workshops for all ages at Wowo! Whether you fancy your chances in the wild, learning some new tricks, making potions or shooting some arrows – we will have something for you! Have a browse of the workshops below and get some booked in for your camping holiday.

BOOKING WORKSHOPS AT WOWO
There is different information you need to know depending on the workshop you are booking. This is made known to you during the process. Below is some more general information for you, and if you have any trouble booking please email: [email protected].
Really Wild Bushcraft was founded by Steven Shove in January 2010 to deliver outdoor learning experiences to families and organisations alike. Since then, hundreds of families have either attended together or signed up their children on our Really Wild Bushcraft courses at WOWO. Steve and his team are qualified bushcraft and survival instructors.
Each is a qualified expedition leader, CRB checked and trained in remote first aid and food hygiene as well. Instruction is safe, fun and delivered in an exciting and engaging way so whatever your age, you'll get a great deal from our courses.
Join Rainbow one of the many fairies that live in the Enchanted woods at Wowo, on a magical adventure searching for her lost magic wand! Explore the magical woodland paths and see how many fairy doors you can find, discover the secretfairy village and stop to weave a wish into the wishing tree. Help Rainbow find her wand (she really is very forgetful) and decorate your very own willow wand with magically hand spun wool.
Which colour will you choose? Unicorn hair, Dragon Skin, Phoenix feathers, or maybe Mermaid scales? Then help Rainbow make a magic potion to help protect the fairy village from those naughty Trolls.
Damian has a couple of Arty Masters Degrees, is an open water scuba Instructor, and has travelled much of the planet sharing stories, running social creative programmes and generally causing mischief. He's currently studying to become a Therapeutic Arts Counsellor, and whilst he does so, we are delighted to have him here at Wowo.
He'll be running Art and Storytelling workshops, hosting storytelling walks and the odd evenings' entertainment in the Tipi. BB is often to be seen riding around on a rather old ladies bicycle, apparently from Sweden, where his grown-up son, Jim can be found.
Our team is made up of full time dedicated and passionate archers. All our members are trained instructors, holding DBS & we are fully covered with specific public liability insurance. Many of us have been shooting from an early age, with it being an important part of our lives, and we are inspired by sharing our love of archery with as many people possible.
We aim to share our love of the bow as much as we can, at any event or occasion, and to create the most pleasurable experience of archery. Our focus is upon natural, intuitive teaching, & tapping into the internal knowledge and skill that lies within all of us.
JIMMY THE JUGGLING JESTER
Jimmy is an experienced instructor and can guide you through circus skills from all over the world, including diabolo, flower stick, plate-spinning, poi, hula hoop, and juggling, as well as balance skills like stilt-walking, pedal wheels, and perhaps even unicycle!
These skills are a great way of improving your balance, coordination and accuracy, and our workshops are an excellent opportunity to make quick progress with them in a fun and friendly environment. With two sessions, one for the under sevens and one for children and adults of all experiences, our workshops offer a suitable challenge for everyone as well as an opportunity to see Jimmy perform some tricks.
FORAGING & WILD HERBALISM
Join Wowo's resident Medical Herbalist to learn how to brew your own simple and safe potions. Learn about a selection of common wild weeds, cottage garden herbs and kitchen spices and choose what magic powers you want your potion to have. You can choose from herbs that can ease digestive or respiratory complaints, boost immunity or aid anxiety.
Alice will be on hand to offer personalised advice for your family's health needs and you can feel empowered learning about the ingredients and tools to make your own potions. This workshop is suitable for all the family (under 8yrs accompanied by an adult), it is a sensory experience and educational too.
Why not book a children's ukulele workshop with our very own in-house musician, Al Start! Al has taught ukulele in primary schools for 10 years and will get you started with just one finger! Learn how to hold, strum and play a few chords on your ukulele, then sing and play along to some easy, well-known songs, family favourites and even a few of Al's funny originals!
No experience necessary – bring your own ukulele or borrow one of ours. (Suitable for grown-ups too) Under 8 year olds accompanied by an adult.
Come and join us for a camping experience with your under 5 year olds. We have tailored a week of activities for you and your little ones to participate in a relaxed, outdoor environment. Enjoy forest school inspired activities and family workshops and still have time to visit the Bluebell railway for a train ride (or other local attractions).
We will also be hosting a special Nature's first aid workshop for the whole family to enjoy a walk in our lovely countryside and learn what nature provides for our first aid and health needs. Come and see what this year will bring!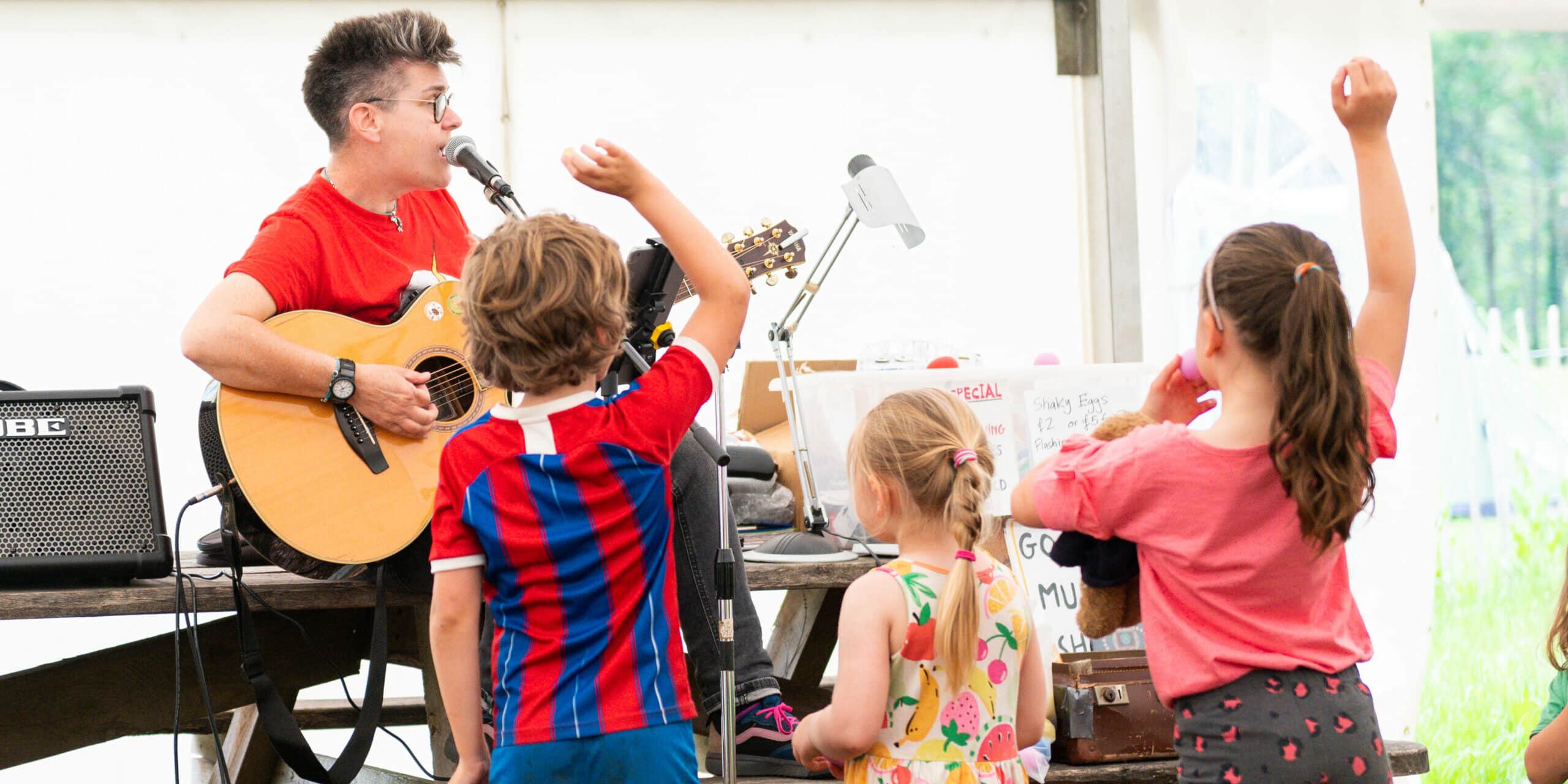 Their brand new Music School Membership Program has just launched offering schools exclusive access to outstanding original songs and music teaching materials all based on primary topics at an affordable price. 
A Centre of Educational Excellence with Really Wild Education and Partners Wowo have teamed up with really Wild Education Ltd to offer schools and colleges a wonderful range of nature-based experiences, personal development camps, team and leadership.
WHAT'S HAPPENING AT WOWO?

Please take note of the following information to get the best from your time with us.
Photographs or film may be taken during the workshops for publicity purposes here at Wowo, if you do not wish your child/children or yourselves to be photographed or filmed please let the workshop leader know before the workshop begins.
Meet in BIGWOOD for daytime workshops (reception can provide directions) and for NIGHTGAMES
meet outside the barn by reception 5mins before start.
For all sessions please bring a healthy snack and drink as well as warm appropriate clothes, even if it is sunny when we begin!
If you need to escort your child back to your camp after their session, please feel free to arrive in BIG WOOD shortly before our ending time to collect them.
Please bring a pack lunch, ideally to share (advised vegetarian) as it's much nicer all eating together. You may wish to bring a notepad and pen, camera (pls ask other participants and the instructor if they mind if you capture them first), suitable footwear, suncream/hat, warm clothes etc and any tools in particular it says to bring for the workshop. You may also wish to bring something soft/warm to sit on as we will be outside on wooden benches.
Meet by the barn at campsite reception 5 mins before start time.
There is so much happening at Wowo throughout the year. Whether it's workshops, music, activities, campfires or anything else you want from your camping trip, make sure you stay in the know by subscribing to our newsletter. We promise no spam, just some casual updates every month or so!
You will no doubt have a handful of questions before you come camping. There is a ton of information around this site that should provide you with the answers you need. However if there is anything else, please check out our FAQs that should cover everything that you can think of. If there is still something missing, you can drop us a line.